In the last few years there has been a fundamental shift in the way businesses are thinking about their websites and online presence. This has resulted in a change in mindset in the world of web, particularly in the following three areas:
Website Culture
Website Process
Website Technology
This article explores what has changed in each of these areas, looking into what the exciting new world of web looks like and how you can be a part of it.
Funnel to Flywheel
The mindset shift regarding thinking about websites is a result of a change in the way many businesses are now thinking about their sales process.
Traditionally the sales process has been viewed as a funnel where prospects pile into the top, gradually filtering down and reducing in number, until they come out of the funnel as customers. There are numerous ways of representing a sales funnel, but the one thing they all have in common is that the customers are shown at the bottom, pretty much as an afterthought. The funnel produces customers, but it does not see them as a driving force to help you grow. And since word-of-mouth and customer referrals are the biggest influence on purchasing, this is a major flaw. This is where the flywheel comes in.
A flywheel is simply an incredibly energy efficient wheel. With the flywheel sales model you use the momentum of your happy customers to drive referrals and repeat sales – keeping your business spinning. The flywheel puts customers at the centre of everything you do and around the edges there are three stages:
Attract
Engage
Delight
Taking a flywheel approach requires you to align your marketing, sales and service teams to attract, engage and delight your customers by providing them with an amazing experience for every interaction they have with your business.
This starts with your website.
Website Culture
Traditionally websites have been entirely in the hands of the marketing department, focussing on the top of the funnel stages - generally called the awareness or interest stages. This mindset creates websites which look great but are almost completely useless to prospects in the later stages of the buyer's journey and also to customers.
Traditional Website Culture
Such traditional websites have been viewed solely as a business expense, not as value adding and while websites are solely focussed on marketing and prospects at the top of the funnel this is incredibly hard to dispute. It is difficult to measure and argue a satisfactory ROI for a website when its only job is to raise awareness.
Websites which only cater to prospects at the very start of the customer journey easily become digital brochures. These are incredibly hard to test, since there is no way for your audience to engage with your website, making it nearly impossible to learn what's best for your audience. This means your website and its content is designed and written based entirely on subjective assumptions, not on actual data.
This clearly does not put the customers first.
Modern Website Culture
As we move from funnel to flywheel the way we think about websites is changing. Businesses have begun to recognise that a good website should attract, engage and delight their customers – in other words a website should be leveraged for the whole flywheel.
Websites are increasingly being seen as a growth investment; this comes with the understanding that your website is an integral part of your flywheel and as such requires investment. The more you put into your website the better the result. Many businesses are now approaching their websites as if they are a digital product with wide impact, thinking of them as a free product for most of the time - however there are opportunities to monetise them if you wish.
This new breed of website creates many opportunities for your audience to engage with you, they are interactive and enable extensive testing. Businesses can now collect data on every single page of their websites and change their content and design based on this data. Using a test and perfect approach to website design enables you to create a website which delights your audience and delivers on your business goals.
By approaching your website as a digital product which will be adjusted and tweaked, you can create a website which delights your customers and keeps your flywheel spinning.
Website Process
So how do we create these amazing new websites to attract, engage and delight our customers? If the way we think about our websites has changed, then the way we design and build them must also change.
Traditional Design Process
Traditionally designing and developing websites has started and ended with your business and does not take into account the needs of your customers, leading to irrelevant content or giving the impression of not understanding their problems. Also developing a website has historically been a massive project, taking a huge amount of time and money and often overrunning.
Because of this there has been a 'set and forget' approach to website design and build, with businesses gritting their teeth and redesigning their websites every few years as a massive project, but doing nothing with them in the intervening time, so that they are stale and irrelevant for much of the time.
This design process does not create a website experience which delights your customers and it does not align with the flywheel. In order to create a website which delights your customers we must first start with your customers.
Modern Design Process
The modern website design process starts with a customer-focused strategy stage. The aim of this is to get an empathetic understanding of the world your customers live in. Once you have understood this, the next step is to work out how you can weave your product and website into that world.
This understanding enables you to quickly design and publish a Launch Pad website. A Launch Pad website is not meant to be the end result, but to look and perform better than your previous website. Your Launch Pad website gives you a starting point to test and perfect - after all, it is far easier to edit than it is to create - which is where the Continuous Improvement stage comes in. Once you have your Launch Pad website you can collect data from your website, test changes and get them right. This new design process is known as Growth-Driven Design and it is how D2e build all of our websites.
Your customers' needs are constantly changing and evolving, so your website should be too.
Website Technology
Since our websites are changing, it is logical that the technology we use to create them must change.
Traditional Technology
Traditionally there has been a trade-off between ease of use and scalability within the CMS market.
SaaS CMSes such as Squarespace and Wix make building a website easier than ever, but they are not flexible and do not scale well.
Open Source CMSes such as WordPress, Joomla are extremely flexible and can extend functionality with plug ins but require a lot of managing, which can take a huge amount of time and effort. Security can be quite a headache as well.
Proprietary CMSes such as Adobe Experience Manager are immensely powerful and flexible, but they are not easy to use and – for most companies - prohibitively expensive. These CMSes are really only designed to be used by Fortune 500 companies.
Also, it has been almost inevitable that developers have been website gatekeepers as very often developers have had to be called in to make even the smallest changes to the website.
While this may be incredibly annoying for marketers these problems do not negatively impact upon the customer's experience. However, traditional CMSes do not offer many opportunities for personalisation, providing a one-size fits none experience for website visitors. An approach which certainly does not delight customers or prospects. Additionally, your ability to improve the website is hindered by the lack of insightful reporting from traditional CMSes provide, making it harder to understand what resonates with your websites visitors and what does not.
Modern Technology
Modern CMSes are designed to enable you to delight your customers at every stage of the flywheel. They are often SaaS, so you don't need to worry about security, updates or managing your website, allowing you to spend your time delighting your customers. By making it easy to create and edit your website they empower your team and remove gatekeepers.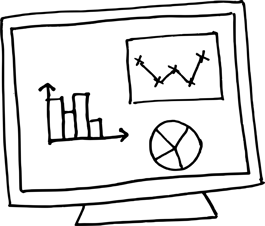 Providing personal web experiences for your website visitors is more important than ever and modern CMSes use SMART content to make providing this quick and easy for marketers. Delighting your customers and making your business stand out. Modern CMSes provide detailed reporting helping you to understand your customers and showing how hard your website is working. This enables you to prove the ROI of your website and show how valuable it really is.
The new world of web
This exciting new world of web puts the customer first, by empathising with your customer and understanding their needs at every stage of the buyers journey you can create a website which enables them at all these stages. In turn providing less work for your entire company.
By putting your customers' needs first and continuously improving your website it you will ensure it is your most valuable business asset.